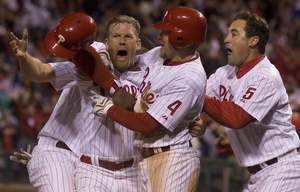 Jose Valverde's first pitch last night landed in the right-field stands at Citizens Bank Park.
His second pitch hit Chase Utley.
I had a feeling then that something crazy could happen last night in that ninth inning. Sure enough, two batters later Pat Burrell hit a two-run opposite field home run to tie the game, 3-3. Geoff Jenkins followed and struck out, but Brad Ausmus' passed ball allowed him to reach first base. Pedro Feliz then ripped a ball down the left-field line and into the corner, putting Jenkins in position to score the winning run in a 4-3 victory over the Astros.
That last play couldn't have been crazier.