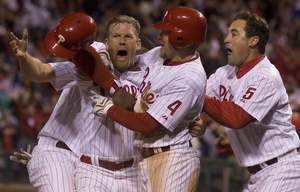 Jose Valverde's first pitch last night landed in the right-field stands at Citizens Bank Park.
His second pitch hit Chase Utley.
I had a feeling then that something crazy could happen last night in that ninth inning. Sure enough, two batters later Pat Burrell hit a two-run opposite field home run to tie the game, 3-3. Geoff Jenkins followed and struck out, but Brad Ausmus' passed ball allowed him to reach first base. Pedro Feliz then ripped a ball down the left-field line and into the corner, putting Jenkins in position to score the winning run in a 4-3 victory over the Astros.
That last play couldn't have been crazier.
Jenkins hauled himself from first to third. Third base coach Steve Smith initially waved him home, but threw up the stop sign once he saw Carlos Lee field the ball cleanly and get the ball to shortstop Miguel Tejada. But Jenkins never saw the stop sign, kept running and scored on a bang-bang play at the plate.
"I tried to get in front of him and he ran by," Smith said. "Thank goodness it worked out. You always wave him early, and then when they got [the ball] clean, you have to stop him with one out. If it's two outs, I would have sent him."
"You go hard, hard, hard," Jenkins said. "When you supposedly pick up the third-base coach and he throws the stop sign up, you stop. I just was in that tweener part where I had the head down, hit third and go. I didn't see it."
*
In the Phillies Notebook, Jimmy Rollins thinks he's closer to returning to the lineup. But he's still not there yet. Tonight? Maybe, but I would doubt it.