Ruiz's boot coming off; Phillies expect him to play again in 2012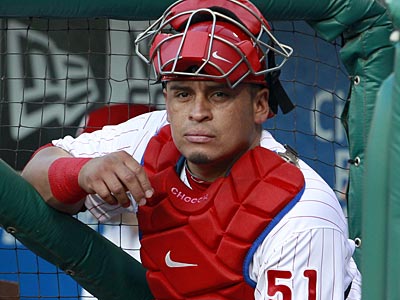 News blogs, sports blogs, entertainment blogs, and more from Philly.com, The Philadelphia Inquirer and the Philadelphia Daily News.
Ruiz's boot coming off; Phillies expect him to play again in 2012
Matt Gelb, Inquirer Staff Writer
MILWAUKEE — Carlos Ruiz's career season was interrupted by a partial tear in his left foot, but there are signs he will return before 2012 is over.
Doctors have cleared Ruiz to no longer walk with the assistance of a boot starting Monday. He will then begin weight-bearing exercises.
"We expect him to play again this season," assistant general manager Scott Proefrock said.
When Ruiz was placed on the disabled list Aug. 4, the Phillies estimated a four- to six-week recovery time. Proefrock could not say if that has changed. Should Ruiz miss the maximum time estimated, it would leave only two weeks of games remaining in the season. Still, the Phillies intend on him playing.
Ruiz, while visiting Panama's team at the Little League World Series in Williamsport, told reporters he expects to play in early September.
He was hitting .335 with a .959 OPS before being disabled. The 33-year-old catcher started complaining of foot pain in mid July, when his batting average was as high as .353.
---
Have a question? Send it to Matt Gelb's Mailbag.