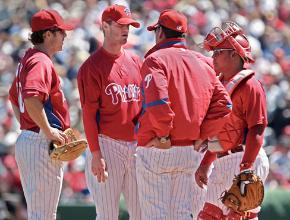 Does spring training performance mean anything?
John Dewan's Stat of the Week shows us one way spring training performance can predict future success. He found that almost 75 percent of players who had a slugging percentage at least 100 points higher than their career average performed better than their career average during the upcoming season.

Carlos Ruiz fits that description.
He has a .538 slugging this spring and a .402 career slugging.
I wouldn't be surprised if that happens. Every year Ruiz has repeated a level in his professional career, he has put up better offensive numbers. This is his second full season with the Phillies. He is more comfortable in his skin. He knows he belongs. And that confidence can help at the plate.