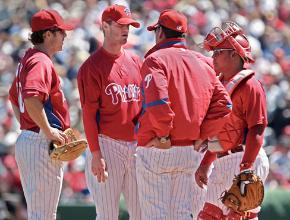 Does spring training performance mean anything?
John Dewan's Stat of the Week shows us one way spring training performance can predict future success. He found that almost 75 percent of players who had a slugging percentage at least 100 points higher than their career average performed better than their career average during the upcoming season.
Carlos Ruiz fits that description.
He has a .538 slugging this spring and a .402 career slugging.
I wouldn't be surprised if that happens. Every year Ruiz has repeated a level in his professional career, he has put up better offensive numbers. This is his second full season with the Phillies. He is more comfortable in his skin. He knows he belongs. And that confidence can help at the plate.
*
Sports Illustrated picks the Phillies to finish second in the National League East in its upcoming Baseball Preview:
"If (Brad) Lidge regains his All-Star form, and if the three starters behind (Brett) Myers and budding ace Cole Hamels (the soft-tossing trio of second-year man Kyle Kendrick, 45-year-old Jamie Moyer and journeyman Adam Eaton) are merely league average, Philadelphia should again battle the Mets for the NL East crown into late September. And if the staff doesn't come through? A repeat of last season's success will be dead in the water."
*
XM Radio has created a temporary channel called "Play Ball!" which will play 412 songs about baseball Saturday and Sunday before Opening Day Monday. The channel will play songs like John Fogerty's "Centerfield," Terry Cashman's "Talkin' Baseball," and Dropkick Murphy's "Tessie," as well as lesser-known gems like "A Dying Cubs' Fan's Last Request" and "Lou Piniella Polka."
As a Polish kid from Milwaukee there's only one polka: The Beer Barrel Polka.
(You find some interesting versions of the Beer Barrel Polka on You Tube.)