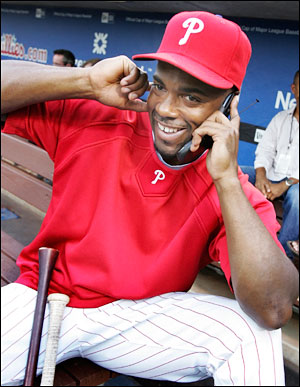 Jimmy Rollins is out.
He has been scratched from tonight's lineup against the New York Mets at Shea Stadium because of a sprained left ankle. Rollins, who had been penciled into the lineup earlier this afternoon, injured the ankle in yesterday's 5-2 victory over the Mets on a pickoff attempt at second base.
"It hasn't changed from yesterday," Rollins said. "It never felt bad. It's never been swollen. My mobility going left to right is pretty sore and that's where my game is, especially defensively. Me at 50 percent and Eric (Bruntlett) at 100 percent, I'll take my chances with him. I don't think (it will linger), and I definitely hope it doesn't. It's just sore. It isn't anything more than that right now."
Rollins, who was scratched after the team's pregame stretch, will have x-rays taken of the ankle before the game. (UPDATE: Rollilns' x-rays were negative.) Shane Victorino will hit first in Rollins' absence. Bruntlett will hit second. Rollins said he isn't sure if he will be able to play tomorrow night in the series finale against the Mets, either. Rollins also said more than likely he could pinch-hit against a righthanded pitcher, but it would hurt his ankle against a lefthanded pitcher.
"If I miss one or two (games) here, it's better than 15," he said.
If this injury happened later in the season, Rollins said he probably would play. But this is Game No. 9, so there's no reason to rush.
"I want to go out there and play every day, but Joe Morgan and Milt (Thompson) said it, they agreed, you go out there on a bad ankle you start getting some bad habits at the plate," Rollins said. "My swing feels pretty good right now so I don't want to start that."
*
Listen to Rollins' interview with reporters.
Your browser does not support the audio element.