Repeat!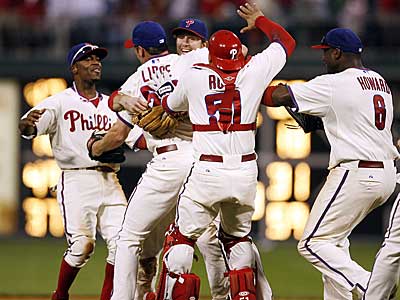 The Phillies have repeated as National League East champions!
Repeat!
Todd Zolecki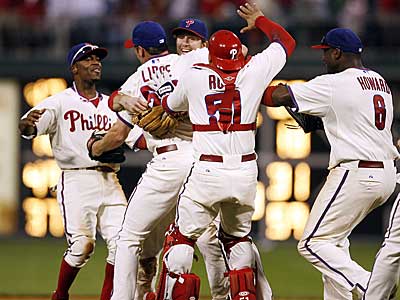 The Phillies are National League East champions.
You've seen the double play.
You've seen the celebration.
You've certainly heard players talk about unfinished business. The Colorado Rockies swept the Phillies in the NLDS last season, which had Charlie Manuel wondering yesterday what in fact the Phillies really, truly had won last year? A pennant to fly in left-center field? Gee, that's nice, but Manuel and his players kept repeating over and over again that they expect more this time.
*
Phil Sheridan puts it best: Rollins to Utley to October.
*
All Jamie Moyer does is clinch NL East championships.
*
In the Phillies Notebook: Cole Hamels gets to rest today. He will start Game 1 of the NLDS on Wednesday against the Dodgers or Brewers. David Montgomery says it's too early to talk about the next GM. And Geoff Jenkins finally makes the playoffs.
*
In The Inquirer's Sunday baseball column, Jim Salisbury takes a look at baseball's postseason award winners. Also check out Extra Bases.
*
John Gonzalez wonders if this year finally is Philly's turn.
*
The Brewers spit the bit and lost to the Cubs, while the Mets rallied behind Johan Santana to pull even in the NL wild card race.