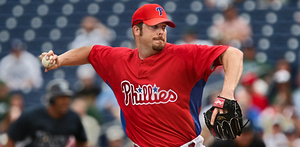 Two weeks from tomorrow the Phillies open the 2008 season.
Are they ready?
Charlie Manuel doesn't think so. He's upset at the way his team has played this spring. The Phillies are 5-12-1, which ties them with the Pittsburgh Pirates for the worst record in the Grapefruit League. But besides his team's overall play, Manuel still needs some questions answered before the Phillies head north to Philadelphia on March 27 for a pair of exhibition games against the Blue Jays at Citizens Bank Park and a game in Lehigh Valley:
1) Who's the fifth starter?