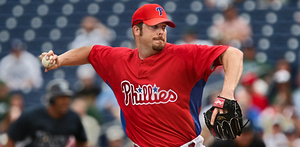 Two weeks from tomorrow the Phillies open the 2008 season.
Are they ready?
Charlie Manuel doesn't think so. He's upset at the way his team has played this spring. The Phillies are 5-12-1, which ties them with the Pittsburgh Pirates for the worst record in the Grapefruit League. But besides his team's overall play, Manuel still needs some questions answered before the Phillies head north to Philadelphia on March 27 for a pair of exhibition games against the Blue Jays at Citizens Bank Park and a game in Lehigh Valley:
1) Who's the fifth starter?
2) Who's getting the final two bullpen jobs?
3) What happens with Wes Helms and Chris Snelling?
We take a look at those questions in today's Inquirer.
*
Manuel called Shane Victorino into his office after yesterday's 11-2 loss to the Minnesota Twins. Victorino played the entire game, an unusual practice for an everyday player in the spring, so it's clear Manuel hasn't been happy with Victorino's play or effort.
Both Manuel and Victorino emerged from the roughly 10-minute meeting in good spirts.
"It was honest," Manuel said of the talk.
*
Manuel said the team has missed Aaron Rowand, but don't overreact and think this is why the team is 5-12-1. The Phillies were 11-18 last spring with Rowand.
My guess for 2008 is this: if the Phillies pitch well, they will win a lot of games. If they pitch terribly like last year, they will struggle. Rowand was a great presence in the clubhouse, but I wouldn't overstate his importance in the team's future win-loss record.
*
A revealing quote from J.D. Durbin, who allowed five hits and five runs in three innings against the Twins.
He is 0-3 with a 10.95 ERA.
"I look in the mirror every day," Durbin said. "I try to find myself more than anybody, I think. I lost that fire that burns inside me. I still go out there and compete 100 percent, but I don't have that over-the-top, kick-butt, Brett Myers attitude, and I think that's hurting me."
*
Jim Salisbury writes about this scary possibility in his Sunday's baseball column: the Phillies might have taken Rocco Baldelli over Utley had he been available in the 2000 draft. Check out Salisbury's Extra Bases, too.