Polanco appears ready to return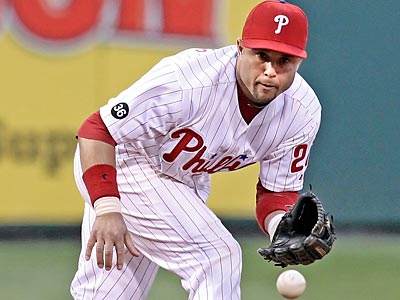 News blogs, sports blogs, entertainment blogs, and more from Philly.com, The Philadelphia Inquirer and the Philadelphia Daily News.
Polanco appears ready to return
Bob Brookover, Inquirer Baseball Columnist
All signs point to third baseman Placido Polanco coming off the disabled list and rejoining the Phillies in time for Saturday afternoon's game against the Chicago Cubs at Wrigley Field.
Polanco carried out his plan of playing for single-A Clearwater Thursday and the Phillies' rookie Gulf Coast League team Friday. He played five innings and went 1-for-4 with a run scored against Bradenton Thursday night, then went 3-for-3 with a double, two RBIs and a run scored Friday morning for the GCL Phils.
GM Ruben Amaro would only say "maybe" when asked if Polanco would come off the disabled list in time for Saturday's game, but don't be surprised if that move is definite by the end of the day.
Since Polanco (strained left elbow) and second baseman Chase Utley (torn ligaments in his right thumb) simultaneously went on the disabled list, the Phillies are 7-7 and have scored three runs or fewer in six of their 14 games.