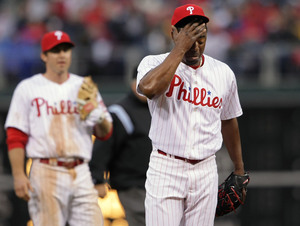 The concerns Charlie Manuel had about his team showed up immediately in 2008.
Oh, that pitching.
Brett Myers didn't have his best. Ryan Madson and Tom Gordon didn't have theirs, either. So another comeback from the Phillies offense was wasted in yesterday's 11-6 loss to the Nationals at Citizens Bank Park.
"We had those days last year, and we've bounced back," Manuel said.
But do they really want to try to beat the odds like that over and over again this year?
The Phillies had a 4.73 ERA last season, which made them the fourth-worst pitching staff in the league. Of the 52 playoff teams in the National League since 1994, just two have made the playoffs with one of the four-worst ERAs in the league (the 1995 Rockies and last year's Phillies). Just seven NL playoff teams finished in the bottom half of the league in ERA.
The odds of the Phillies winning and pitching like that again seem slim.
"You never want to go through that," Gordon said. "You want everybody going on all cylinders. You definitely don't want to have to go through one aspect of the game playing well and the other not playing well."
*
Phil Sheridan writes that the Phillies should be, uh, interesting. That they should be.
*
Myers has had better days. He certainly has had worse, Jim Salisbury writes.
*
Jimmy Rollins had a huge day at the plate, but uncharacteristically struggled in the field. That's the thing about Rollins: he's normally so good, so automatic in the field, that when he bobbles a ball or makes one throw off target you're like, "Wait a second? Was that Rollins?" You won't see many games like that this season.
*
Mayor Michael Nutter threw one of the day's best pitches.
*
The Inquirer has made some changes to its baseball coverage this season.