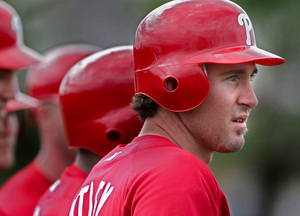 There is no reason for alarm.
Not yet.
But so far this spring:
Jimmy Rollins is hitting .158 with two RBIs.
Shane Victorino is hitting .231 with one RBI.
Chase Utley is hitting .194 with one homer and six RBIs.
Pat Burrell is hitting .235 with two homers and five RBIs.
Geoff Jenkins is hitting .136 with one RBI.
Jayson Werth is hitting .161 with one RBI.
The Phillies open their 2008 season two weeks from today against the Washington Nationals at Citizens Bank Park, but many of the studs in their lineup (other than Ryan Howard, who has been mashing the ball since Grapefruit League play started last month) have struggled at the plate. Nobody is worried, and for good reason. The Phillies led the National League in runs scored each of the previous two seasons, and finished second in runs in 2005.