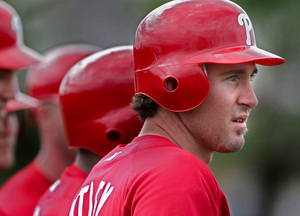 There is no reason for alarm.
Not yet.
But so far this spring:
Jimmy Rollins is hitting .158 with two RBIs.
Shane Victorino is hitting .231 with one RBI.
Chase Utley is hitting .194 with one homer and six RBIs.
Pat Burrell is hitting .235 with two homers and five RBIs.
Geoff Jenkins is hitting .136 with one RBI.
Jayson Werth is hitting .161 with one RBI.
The Phillies open their 2008 season two weeks from today against the Washington Nationals at Citizens Bank Park, but many of the studs in their lineup (other than Ryan Howard, who has been mashing the ball since Grapefruit League play started last month) have struggled at the plate. Nobody is worried, and for good reason. The Phillies led the National League in runs scored each of the previous two seasons, and finished second in runs in 2005.
Pitching remains the Phillies' No. 1 concern.
*
Brett Myers pitched very well yesterday in a 6-2 victory over the Reds at Ed Smith Stadium in Sarasota.
*
Lenny Dykstra is getting plenty of attention for his post-baseball career success.
Even The New Yorker has featured him.
*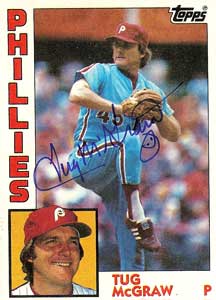 Tug McGraw's 1980 Saves Team
This comes from T. Scott Brandon, who put together the team of Hall of Famers who has faced Jamie Moyer. Brandon also sends a baseball trivia question every day. If you're interested in signing up, e-mail him here.
Each of these batters ended a game in one of McGraw's 24 saves during the Phillies' 1980 World Series Championship season, including both regular- (20 saves) and post-season (four saves) games. Montanez, Trevino and Wilson each ended two games, Wilson's second game-ending appearance resulting in the Phils' World Series Championship. Date, event, and game result shown parenthetically.
First base - WILLIE MONTANEZ (14-Jun, GO SS-1B, W 3-1 / 19-Aug, GO 1B-P, W 7-4)
Second base - TOM HERR (07-Aug, FC SS-2B, W 3-2)
Third base - Enos Cabell (30-Jul, DP SS-2B-1B, W 6-4)
Shortstop - BILL RUSSELL (27-Aug, GO 2B-1B, W 4-3)
Catcher - Alex Trevino (01-May, K looking, W 2-1 / 15-Aug, GO 2B-1B, W 8-0)
Left field - Jay Johnstone (16-Jun, lineout to SS, W 3-2)
Center field - WILLIE WILSON (14-Oct (WS Game 1), K, W 7-6 / 21-Oct (WS Game 6), K, W 4-1)
Right field - ELLIS VALENTINE (12-Apr, bases-loaded FO to center, W 6-2)
Designated hitter - JEFF LEONARD (24-May, K, W 5-4)
ALL CAPS = All-Star
*
There's a new book about the 1977 Phillies, and how their collapsed killed the city's spirit.