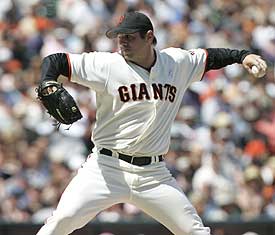 The Phillies signed lefthander Steve Kline to a minor-league contract.
He will join triple-A Lehigh Valley next week after pitching this week in Clearwater, Fla. The San Francisco Giants released Kline on April 4 after they designated him for assignment March 30. He went 1-2 with a 4.70 ERA in 68 appearances last season for the Giants.
In 11 seasons in the majors, Kline is 34-39 with a 3.51 ERA.
*
Jimmy Rollins is not in tonight's lineup against the New York Mets.