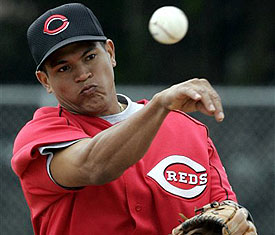 The Phillies today claimed infielder Ray Olmedo off waivers from the Pittsburgh Pirates.

Olmedo, 27, played in 27 games last season for the Toronto Blue Jays. He is a career .228 hitter, who has hit two home runs and 26 RBIs in 198 games for Cincinnati (2003-06) and Toronto. In the majors, he has made 55 starts at shortstop and 28 at second base. He also has appeared in five games at third base and one in right field. I'm guessing he's inventory should something happen to Eric Bruntlett, Jimmy Rollins or Chase Utley.
The Phillies designated righthander John Ennis for assingment to make room for Olmedo on the 40-man roster.