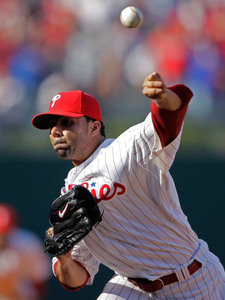 J.C. Romero couldn't have been more upset yesterday after he served up a two-run homer to Steve Holm in a 4-3 loss to the Giants.
He's not used to such moments.
"It was a fastball, man," he said. "It was a bad fastball. Like they say around the league, 'You hang it, they bang it.' It was a horse-crap pitch with a horse-crap result."
Let's look at Romero's statistics since he joined the Phillies late last June, when they claimed him off waivers from the Boston Red Sox:
He is 4-3 with a 1.39 ERA in 69 appearances with the Phillies.
He made 20 appearances last September. He went 1-0 with a 0.00 ERA. Opponents hit just .082 against him.
He made 17 appearances this season before Sunday. He went 3-0 with a 0.63 ERA. Opponents hit .241 against him.
He went 4-0 record with a 0.30 ERA (one earned run in 30 innings) in his previous 37 appearances before Sunday.
"He's been real good for us, man," Charlie Manuel said. "He's been real good for us. He's been about as good as you can get. He's human, too. He's going to give up some runs. If he didn't, I think we'd have a pretty good team."
*
Pat Gillick made it very clear last summer that he had no plans to talk to Aaron Rowand about a contract extension during the season.
He said he prefers to wait until after the season.
But the Phillies are in a unique situation. Gillick won't be back next year. Brad Lidge and Pat Burrell might be worthy of contract extensions. So do the Phillies stick to Gillick's preference, or do they push ahead as an organization and try to lock up Lidge or Burrell?