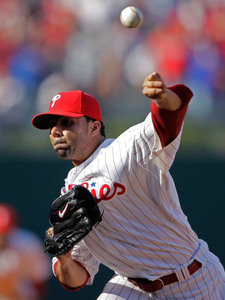 J.C. Romero couldn't have been more upset yesterday after he served up a two-run homer to Steve Holm in a 4-3 loss to the Giants.
He's not used to such moments.
"It was a fastball, man," he said. "It was a bad fastball. Like they say around the league, 'You hang it, they bang it.' It was a horse-crap pitch with a horse-crap result."
Let's look at Romero's statistics since he joined the Phillies late last June, when they claimed him off waivers from the Boston Red Sox:
He is 4-3 with a 1.39 ERA in 69 appearances with the Phillies.
He made 20 appearances last September. He went 1-0 with a 0.00 ERA. Opponents hit just .082 against him.
He made 17 appearances this season before Sunday. He went 3-0 with a 0.63 ERA. Opponents hit .241 against him.
He went 4-0 record with a 0.30 ERA (one earned run in 30 innings) in his previous 37 appearances before Sunday.