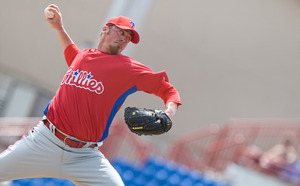 The longer Adam Eaton and his competitors (Chad Durbin, J.D. Durbin, Travis Blackley, etc.) struggle for the No. 5 job in the Phillies' rotation, the more important it becomes for Brett Myers to perform at the top.
So far, he has.
He pitched well in a minor-league game yesterday. After he started throwing nothing but fastballs, he retired the final 12 batters he faced in his 5 2/3 innings of work. It seems the transition from starter to closer to starter has been easy for Myers, but Phil Sheridan writes that isn't the case. Myers misses closing, but he's not going to sit around and cry about it. Good thing. They can't afford to see tears from their opening day starter. They need Myers and Cole Hamels to be rocks at the top of the rotation, especially with what everybody has seen in the competition for the fifth spot and Kyle Kendrick struggling.
*
More on yesterday's important bullpen sessions with Brad Lidge, Kris Benson and Eaton.
*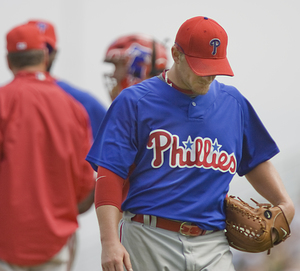 J.D. Durbin struggled again yesterday. He's not worried, although he eventually acknowledged it might be better to put up some better numbers.
Charlie Manuel agrees.
It's getting to the time where Manuel doesn't want to hear "I'm just getting my work in" from guys who are competing for jobs.
He wants them to start putting up zeros.
"I'd say now is a big time for them," Manuel said. "I hear when they say they feel good and they're throwing good and stuff like that - somewhere along the line we've got to start holding them. People look at these games and say they don't count. But every time you pick up a ball to pitch, these games count for you. For you personally, they count."
*
The Phillies have off today, their only day off this spring. But Chad Durbin is throwing in a minor-league game.
*
This is my fifth spring training in Clearwater. Every year everybody looks forward to that one day off. I think in the first four years, the weather has been lousy for three of them. Today? Looks overcast, so let's hope that changes.
My farmer's tan isn't going away on its own.