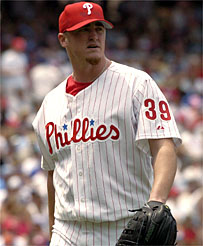 The fastball returned.
Consider that a big step forward for Brett Myers. He needs his fastball to be the pitcher he is. Like he said earlier this week, he isn't Greg Maddux. He isn't a painter. He's aggressive, and it's tough to be as aggressive as he wants to be with a fastball that couldn't crack 88 mph, like last Sunday in Pittsburgh. Myers' fastball hovered in the low 90s in last night's 3-2 loss to the Giants at Citizens Bank Park.
*
In the Phillies notebook, Chase Utley is the hottest hitter on the planet.
*
Here's an interesting possibility: the New York Yankees don't bring back general manager Brian Cashman after the season and he becomes a candidate for the Phillies' GM job. That said, like Jim Salisbury wrote, I expect the job to be awarded to Ruben Amaro Jr. or Mike Arbuckle.
Also read Extra Bases, Minor Matters, Stats 'N' Stuff and On Deck.