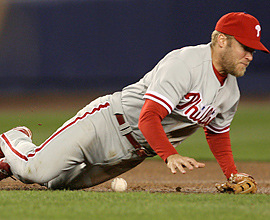 It's unlikely Jimmy Rollins could have saved the Phillies from a brutal 8-2 loss last night to the Mets, but you have to wonder anyway.
Eric Bruntlett committed two errors in the Mets' six-run third inning.
Rollins definitely could have made a difference there.
But he certainly couldn't have helped Kyle Kendrick, who walked three batters in the first inning and three batters in the second inning before getting knocked around and pulled from the game in the third. Jim Salisbury writes about the concerns the Phillies have had about Kendrick since the 2007 season ended. Kendrick is 1-1 with a 6.14 ERA in two starts this season. In 7 1/3 innings, he has allowed 12 hits, 11 runs (five earned runs) and eight walks. He has struck out just one. Opponents have hit .353 against him.
Kendrick battled with his confidence in spring training, so an effort like last night's against the Mets could have him wondering.
"You've got to give him a chance," Charlie Manuel said. "Just because he pitches bad a few times, it doesn't mean you start panicking and not having faith in him. He was 10-4 for us last year. He's earned the right to be out there for a while. I want to get him straightened out. I don't want to destroy him."
Kris Benson isn't expected to join the Phillies anytime soon, but it's not out of the question that if Adam Eaton pitches more effectively than Kendrick that Benson eventually could replace Kendrick in the rotation. But anything close to that decision seems to be at least a month away. Kendrick has plenty of time to get back on track, but he better hurry.
*
In the Phillies Notebook, Rollins doesn't think his sprained left ankle will force him to miss too much time, but he wasn't sure if he would play in tonight's series finale. Ryan Madson also has been battling some shoulder soreness, but said he feels better.
*
The Mets were happy to snap their nine-game losing streak against the Phillies.
"You know, the games that we lost that you guys were talking about, the eight or nine in a row, those games could have went either way," Willie Randolph said. "At least four or five of those games we could have won very easily - fortunate bloops, little bouncers, rollers, an umpire's call. ... We never felt there was any dominance against us. ... There's nothing in our heads as a team that they're better than we are or that they have our number."