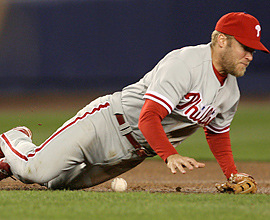 It's unlikely Jimmy Rollins could have saved the Phillies from a brutal 8-2 loss last night to the Mets, but you have to wonder anyway.
Eric Bruntlett committed two errors in the Mets' six-run third inning.
Rollins definitely could have made a difference there.
But he certainly couldn't have helped Kyle Kendrick, who walked three batters in the first inning and three batters in the second inning before getting knocked around and pulled from the game in the third. Jim Salisbury writes about the concerns the Phillies have had about Kendrick since the 2007 season ended. Kendrick is 1-1 with a 6.14 ERA in two starts this season. In 7 1/3 innings, he has allowed 12 hits, 11 runs (five earned runs) and eight walks. He has struck out just one. Opponents have hit .353 against him.