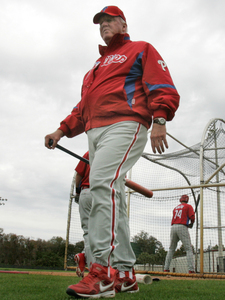 The games are meaningless.
Seriously, they are.
But there also comes a time when a manager wants to see some positive results. Charlie Manuel has reached that point after he watched the Braves thump the Phillies today at Bright House Field, 9-1. The Phillies dropped to 5-11-1 in Grapefruit League play. They're tied with the Blue Jays for the worst record in Florida.
Charlie?
"We've got some guys, if you notice, it's good to be relaxed, it's good to be loose, but we've got some guys ... it's about time for us to talk," Manuel said. "We've got some guys that are too cool. There's a fine line in having a real good time and being relaxed and enjoying what you're doing and things like that and taking it for granted and being complacent. It's nothing we can't take care of.
"Some of them like their position. They like how it's going to go. They take for granted that just because they're a regular player that they're always going to be. That's not the right attitude to take. It might be time for us to have a little chat. Really."
The Phillies are hitting .256 this spring, but their regulars have struggled: Jimmy Rollins (.156), Chase Utley (.200), Pat Burrell (.194), Geoff Jenkins (.162) and Jayson Werth (.174). But you know this team is going to score runs. The real issue is pitching. The Phillies have a 6.88 ERA this spring. Now, pitchers like Brett Myers, Cole Hamels, Jamie Moyer and others have pitched in minor-league games, which skews the numbers a bit. But not that much.
A little more than two weeks to go, folks.
*
Righthander Francisco Rosario woke up today a dark horse candidate for the No. 5 spot in the rotation. But in two innings, he allowed three hits, six runs, two walks and hit two batters. That included a grand slam to Yunel Escobar in the second inning.
*
The Phillies optioned outfielder T.J. Bohn to minor-league camp. They also reassigned pitchers Josh Outman and Carlos Carrasco and outfielders Greg Golson and Brandon Watson to minor-league camp.