Just flew from Milwaukee to Philly to Pittsburgh, so this is my first chance to post today ...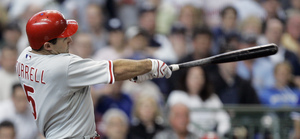 Pat Burrell remains one of the hottest hitters in baseball, so I decided to have a few Phillies teammates answer the question on the t-shirts they received in spring training: Is Pat Burrell man or machine?
"He's a man that is a machine," Brett Myers said.

"Can't he be both?" Adam Eaton said. "It's an open interpretation."

"Both," Chris Coste said. "He's the perfect mix of both."

Like the Six Million Dollar Man?

"Fourteen," Coste said. "He's the Fourteen Million Dollar Man. And if he keeps up this pace, it'll be a hell of a lot more than that."
Great point. Burrell is a free agent after the season. The Phillies tried hard in previous off-seasons to trade Burrell, but had no luck. Burrell said in spring training he would love to come back. Pat Gillick doesn't negotiate with players until after the season, so although he's leaving after the season it seems unlikely the Phillies talk to Burrell about any potential return until the Phillies name a new general manager.