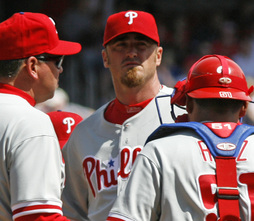 The Good News: Cole Hamels loves pitching at Great American Ball Park. He made his big-league debut here in 2006, when he threw a one-hitter in five innings. He struck out 15 in a memorable complete game in 2007, which turned around the team's 4-11 start on its way to the National League East title.
The Bad News: He needs to pitch well today (and the offense needs to hit and the defense needs to play smart), or the Phillies drop three of four to the Reds to fall to 2-5 before they open a three-game series tomorrow afternoon against the Mets at Shea Stadium.
Hey, times could be worse.
They could be the Tigers.