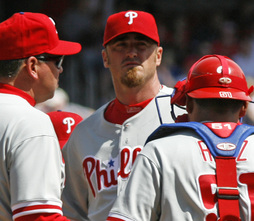 The Good News: Cole Hamels loves pitching at Great American Ball Park. He made his big-league debut here in 2006, when he threw a one-hitter in five innings. He struck out 15 in a memorable complete game in 2007, which turned around the team's 4-11 start on its way to the National League East title.
The Bad News: He needs to pitch well today (and the offense needs to hit and the defense needs to play smart), or the Phillies drop three of four to the Reds to fall to 2-5 before they open a three-game series tomorrow afternoon against the Mets at Shea Stadium.
Hey, times could be worse.
They could be the Tigers.
But Brett Myers didn't pitch well in yesterday's 8-2 loss to the Reds. He lasted just five innings. He allowed eight hits, four runs and three walks. He struck out four. He thought he had much better stuff than he had in Monday's season opener against the Nationals. Charlie Manuel thought otherwise. He thought Myers mixed in his fastball as he tried to throw mostly offspeed pitches to the Reds. Good stuff. Bad stuff. There's no question the Phillies need Myers to turn things around quickly. The reason they acquired Brad Lidge in the off-season is because they thought Myers and Hamels would be a formidable 1-2 punch at the top of their rotation. If Myers suddenly scuffles, it would be trouble.
*
Today's lineup against the Reds: 1) Jimmy Rollins 2) Shane Victorino 3) Chase Utley 4) Ryan Howard 5) Pat Burrell 6) Geoff Jenkins 7) Pedro Feliz 8) Carlos Ruiz 9) Cole Hamels.
*
In the Phillies notebook: Lidge makes his Phillies debut, Shane Victorino continues to struggle at the plate and more.
*
Not to look ahead, but ...
Lefthander Jamie Moyer (0-0, 7.36 ERA) faces lefthanders Oliver Perez tomorrow afternoon at Shea. Righthander Kyle Kendrick (1-0, 7.20 ERA) faces righthander Mike Pelfrey (season debut) on Wednesday night, and righthander Adam Eaton (0-0, 3.52 ERA) faces righthander John Maine (0-1, 9.00 ERA) on Thursday night.