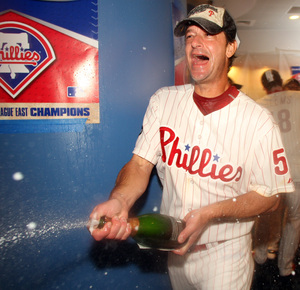 Jamie Moyer has clinched the last two National League East championships for the Phillies.
He could clinch the NLDS tonight at Miller Park.
He keeps this up he could develop a reputation. Moyer seems to have a knack for pitching well in big games. Many might not remember, but he pitched very well for the Phillies in Game 3 of the 2007 NLDS against the Colorado Rockies. He allowed just one run in six innings. It's just that the Phillies couldn't score for him. But there is a definite confidence in the Phillies clubhouse with Moyer on the mound tonight against the Brewers in Game 3. They know Moyer has seen everything in his career. Nothing will surprise him. They know he won't be awed. They know he won't be distracted. They know he will be focused on the task at hand.
And that is a comforting thing.