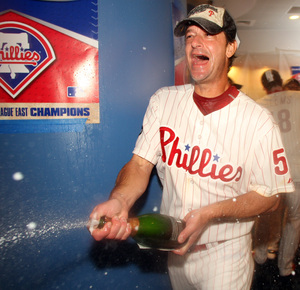 Jamie Moyer has clinched the last two National League East championships for the Phillies.
He could clinch the NLDS tonight at Miller Park.
He keeps this up he could develop a reputation. Moyer seems to have a knack for pitching well in big games. Many might not remember, but he pitched very well for the Phillies in Game 3 of the 2007 NLDS against the Colorado Rockies. He allowed just one run in six innings. It's just that the Phillies couldn't score for him. But there is a definite confidence in the Phillies clubhouse with Moyer on the mound tonight against the Brewers in Game 3. They know Moyer has seen everything in his career. Nothing will surprise him. They know he won't be awed. They know he won't be distracted. They know he will be focused on the task at hand.
And that is a comforting thing.
The Brewers are stressing patience against Moyer.
*
The Phillies have scored just enough to win, but they haven't knocked the cover off the ball, either. Especially Chase Utley, Ryan Howard and Pat Burrell. They are 1 for 17 with eight strikeouts in the first two games of this series. Utley went 2 for 11 with five strikeouts last year in the NLDS. Howard went 3 for 12 with one home run, one RBI and seven strikeouts. Burrell went 2 for 11 with one home run, one RBI and three strikeouts.
Together they have hit .157 (8 for 51) with two home runs, four RBIs and 22 strikeouts in their postseason careers.
Phil Sheridan writes about this issue, but thinks good times could be just ahead with Brewers righthander Dave Bush on the mound.
*
Bob Ford thinks it's important for the Phillies to step on the Brewers' throats.
*
You always hear about how Philly fans are the worst, right? Some out-of-town columnist throws out some tired Santa Claus reference and hilarity ensuses. But Milwaukee Journal-Sentintel columnist Michael Hunt made an interesting observation about Phillies fans. Talking about Brewers fans, he wrote, "It's about being like those people in Philly because, oh, my, is that ever a great baseball town. To have heard them Thursday night with each Brett Myers foul ball in the at-bat that eventually eroded CC Sabathia was to experience what the playoffs should be like everywhere."
I said it in an earlier post, but the crowd's response to that at-bat was one of the most impressive things I've seen. Very cool.
*
Frank Fitzpatrick finds a connection between a bad economy and the Phillies' success.
Take a recession with a Phillies World Series championship?
*
In the Phillies Notebook: the Phillies have no plans to be the eighth team to blow a 0-2 lead in a best-of-five series.
In the Brewers Notebook: Bush knows plenty about the Phillies.