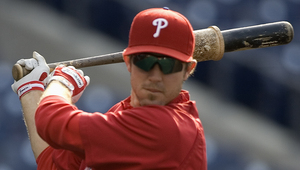 Major League Baseball clubhouses open to reporters 3 1/2 hours before every game.
That means for a 7:05 p.m. game, we're in there at 3:35 p.m. It's a rarity to find Chase Utley in the clubhouse at that time. Or ever for that matter. He's always somewhere. He's getting treatment from one of the athletic trainers, if he needs it. He's studying film. He's taking extra hitting in the cage or on the field.
He's always on the move. He's never sitting around.
Utley is religious about his pregame routine.