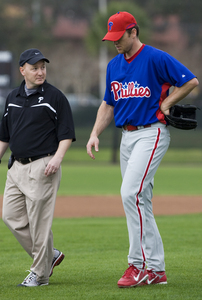 The Phillies placed closer Brad Lidge on the 15-day disabled list, retroactive to March 21.
That means Lidge will open the season on DL.
He could be activated as early as April 5 in Cincinnati.
Lidge, who is scheduled to throw tomorrow in a minor-league game, had been hopeful he would be ready to open the season, but the Phillies sounded less optimistic after he threw a bullpen session yesterday. Lidge's velocity still isn't where it needs to be, so they're going to give him a little more time to build up arm strength. Lidge had surgery on his right knee Feb. 25, which set him back.