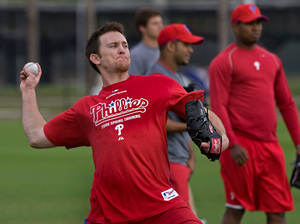 Brad Lidge's fastball sizzled toward home plate this morning at the Carpenter Complex.
Pete LaForest took a hack.
He made contact, but the ball jammed him so badly that the bat snapped in half. The barrel came to rest on the infield dirt between first and second base.
Only the handle remained.
Lidge threw live batting practice for the first time since he injured his right knee Feb. 23, which forced him to have arthroscopic surgery Feb. 25. Lidge is scheduled to throw in a simulated game Monday. He has a chance to pitch in a Grapefruit League game after that.
"It definitely felt good," he said. "I didn't feel my knee at all. It was good for me to face hitters, for sure. Most of my stuff felt pretty good. Mechanically, I'm probably not totally happy, but that should come really soon. Obviously, that's my first outing in a while. But the way the ball is coming out of my hand it feels really good. I think I should be able to catch up real fast.
*
Most of the real action the last few days has been in minor league games or bullpen sessions. Yesterday was no exception as Cole Hamels and Kris Benson threw at the complex.
*
Hey, the Phillies won a Grapefruit League game!
*
The Bill James Handbook 2008 projects Ryan Howard to lead the National League in home runs (52) and RBIs (143) and finish second in OPS (1.053). It projects Jimmy Rollins to finish fifth in stolen bases (35). It projects Hamels to finish fourth in wins (15) and fourth in strikeouts (210) and fifth in ERA (3.33).
*
The Chris Coste Q&A appears in tomorrow's Inquirer.