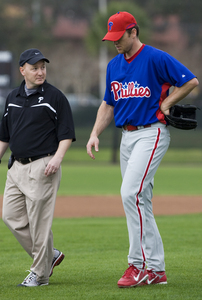 Brad Lidge threw a bullpen session this morning in Clearwater -- his first bullpen after arthroscopic surgery on his right knee two weeks ago today -- and he and pitching coach Rich Dubee were very encouraged.
Lidge threw 25 pitches.
Lidge will throw another bullpen session Wednesday and face live hitters later this week. He could pitch in a Grapefruit League game next week.
"I was really happy," Lidge said. "I didn't feel (the knee) at all. I tried to let it go, and it felt great. I'm obviously real encouraged by that. That's a big step for me."