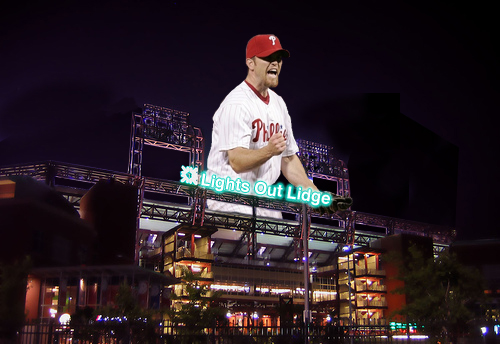 Guess that Brad Lidge trade worked out pretty well.
The Phillies announced this morning they have signed Lidge to a three-year, $37.5 million contract extension that keeps him in red pinstripes through 2011. It also includes a signing bonus, awards package, escalators and a club option and buyout for 2012. Lidge, 31, is 2-0 with 19 saves and a 0.77 ERA in 35 appearances for the Phillies this season. He has 47 strikeouts in 35 innings (12.44 strikeouts/9.0 innings pitched) and has set a franchise record by converting his first 19 save opportunities of the season.
The Phillies must like this signing for a couple reasons: 1) They locked up Lidge before he hit the open market, so they got him at a better price. 2) It's a three-year contract, which means the Phillies won't be tied up should something happen to him. Compare that contract to others that closers have signed in recent seasons: Billy Wagner signed a four-year, $43 million contract before 2006. B.J. Ryan signed a five-year, $47 million contract before 2006. And Francisco Cordero signed a four-year, $46 million contract before 2008.
*
The bullpen blew it last night in a 9-4 loss to the Mets.
*
Phil Sheridan takes a look at Ryan Howard's very interesting season.
*
In the Phillies Notebook, top draft pick Anthony Hewitt is ready to rock and roll.
*
In The Inquirer's Sunday baseball column, Jim Salisbury talks with Phillies scout Chuck LaMar about Tampa Bay's success this season. Also check out Extra Bases, Refinding It, Phillie Phodder.