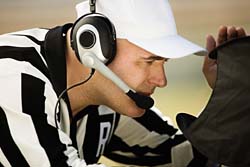 Should baseball have instant replay?
That discussion built a little steam (at least locally) after Sunday's 6-5 loss to the Cubs in 10 innings. Third base umpire Adrian Johnson clearly botched Mark DeRosa's home run call, which should have been a foul ball. If there had been instant replay, it seems likely the call would have been reversed and the Phillies would have carried a two-run lead into the eighth inning instead of a one-run lead, which Tom Gordon and J.C. Romero blew.
General managers voted 25-5 in favor of instant replay for disputed home run calls in November at the GM meetings.
Bud Selig is considering it.