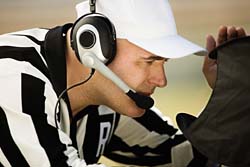 Should baseball have instant replay?
That discussion built a little steam (at least locally) after Sunday's 6-5 loss to the Cubs in 10 innings. Third base umpire Adrian Johnson clearly botched Mark DeRosa's home run call, which should have been a foul ball. If there had been instant replay, it seems likely the call would have been reversed and the Phillies would have carried a two-run lead into the eighth inning instead of a one-run lead, which Tom Gordon and J.C. Romero blew.
General managers voted 25-5 in favor of instant replay for disputed home run calls in November at the GM meetings.
Bud Selig is considering it.
"It remains under advisement," MLB spokesman Pat Courtney said yesterday.
But why not have it? Yes, baseball is great because of the human element. Yes, games are too long and instant replay only would seem to lengthen it. But I can't imagine Phillies fans would be content losing a big playoff game on a disputed home run call because they like the human element of baseball.
Let's go to the video.
*
Ed Wade returns to Philadephia tonight as general manager of the Houston Astros.