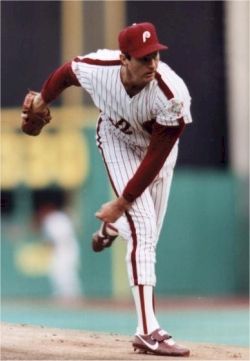 Going through my inbox tonight I came across this: Steve Carlton's 20-Strikeout Team.
You might recall (or not) that I wrote a story in spring training based on the all-time team to have faced Jamie Moyer. T. Scott Brandon, who put together that team, also put together a team of players who struck out 20 or more times against Carlton. Here it is. Players in CAPS are all-stars. Players with an asterisk are Hall of Famers. The number of times they struck out against Carlton is in paranthesis.
1B - WILLIE STARGELL * (33)
2B - JOEL YOUNGBLOOD (24)
3B - TONY PEREZ * (26)
SS - DAVE CONCEPCION (21)
C - JOHNNY BENCH * (20)
LF - GEORGE FOSTER (38)
CF - CESAR CEDENO (26)
RF - ANDRE DAWSON (24)
DH - DAVE PARKER (35)
PH (l) - DARRELL EVANS (21)
PH (r) - TOMMIE AGEE (24)
PH (b) - Tony Scott (23)
PR - LOU BROCK * (22)
Did some looking around myself. Did you know that Phillies first base coach Davey Lopes and Phillies broadcaster Gary Matthews have two of the 16 highest averages against Carlton in his career (with a minimum of 50 plate appearances)? Lopes hit .382 (21 for 55) against Carlton to rank second behind Jesus Alou, who hit .436 (24 for 55). Matthews hit .328 (22 for 67) against Carlton.
The worst hitter against Carlton with 50 or more plate appearances? Marty Perez, who hit .111 (7 for 63).