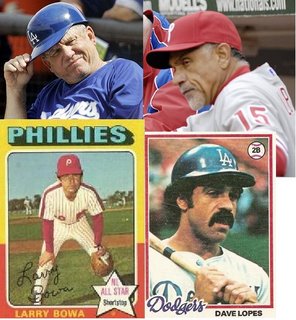 One of the first things I thought about when the Phillies clinched the NLDS on Sunday at Miller Park is Larry Bowa and Davey Lopes.
Hope they're ready for those Black Friday questions.
You know they're coming. The Phillies and Dodgers have played each other in the National League Championship Series in 1977, 1978 and 1983. They open their fourth NLCS together at 8:22 p.m. Thursday at Citizens Bank Park. But Black Friday from the '77 NLCS remains one of the most memorable/worst moments in Phillies history, and so this week and next those stories will be told and retold.
The thing is, the current crop of Phillies couldn't care less about it.
They shouldn't, either.
Phil Sheridan writes, "The current Phillies didn't blow the pennant in '64. They didn't lose two consecutive championship series to the Dodgers or give up a Series-losing home run to Joe Carter. They have won more games than they have lost over the last few years, so they aren't on the hook for most of that 10,000-loss thing. Jimmy Rollins remembered his September call-up in 2000. That team was on its way to a record of 65-97 - its seventh consecutive losing season."
"It was like, 'OK, let's see if you can play at this level,' " Rollins said. "Now [when a player is called up], it's like, 'What can you contribute to help us win?' That's a different mentality."
This is kind of like last summer, when reporters asked Ryan Howard and Chase Utley and Howard about 10,000 losses. They rolled their eyes. They shruggled their shoulders. They were annoyed, and they had every right to be. Because they looked around and were like, "Uh, dude, I've never even been on a losing team." Since the Phillies finished 80-81 in 2002, the Phillies have had six consecutive winning seasons to give them the sixth-best record in baseball at 526-446 (.541). Only the New York Yankees, Boston Red Sox, Los Angeles Angels, St. Louis Cardinals and Minnesosta Twins have been better in that span.
Yep, since 2002 the Phillies have the second-best record in the National League. So forgive Rollins and Co. if they don't know or care about Black Friday. That's in the past. They're worried about the present. And that's the way it should be.
*
The Phillies bullpen sets up a little better today than it did when the Dodgers swept the Phillies in LA in August.
*
In the Phillies Notebook: It'll be Cole Hamels vs. Derek Lowe in Game 1, although the Phillies haven't said it's official.
*
The fan who caught Shane Victorino's grand slam in Game 2 of the NLDS isn't sure what to do with it. I talked with Victorino about it in Milwaukee. He would like the ball, and I'm sure something can be arranged. ... The Eagles got better ratings than the Phillies on Sunday.
*
Courtesy of the guys at The700Level.com. Like they pointed out, the lyrics need to be updated.