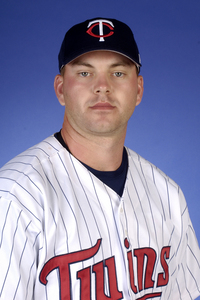 The Phillies' Opening Day roster just came into clearer focus.
The Phillies claimed righthander Tim Lahey off waivers from the Chicago Cubs. They also outrighted righthander J.D. Durbin, infielder Ray Olmedo and outfielder Chris Snelling to triple-A Lehigh Valley.
This means Lahey, 26, takes Durbin's spot as the team's 11th pitcher, and infielder Wes Helms opens the season on the 25-man roster, unless the Phillies make another move(s) before Monday's season opener against the Nationals at Citizens Bank Park. Lahey went 0-1 with a 6.55 ERA in 11 appearances this spring for the Cubs, who selected him as a Rule 5 pick from the Minnesota Twins. He also went 8-4 with 14 saves and a 3.65 ERA in 52 appearances last season for double-A New Britain and triple-A Rochester.
The Phillies still think closer Brad Lidge can be activated from the DL on April 5. If that happens, Helms might be released or traded, unless the Phillies want to continue with 11 pitchers.
*
The Phillies also signed infielder Chris Woodward to a minor league contract.
Woodward, 31, hit .393 (11 for 28) in 15 games this spring for the New York Yankees. He spent last season with Atlanta and also has played for the New York Mets (2005-06) and Toronto Blue Jays (1999-2004). In 607 career games, Woodward has hit .243 with 33 home runs and 186 RBIs. He has played every position on the diamond except pitcher and catcher.