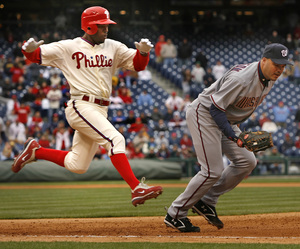 Everybody has seen the highlight of Jimmy Rollins running from first to third on a bunt in the 10th inning in yesterday's 8-7 victory over the Nationals at Citizens Bank Park.
Few players in baseball make that play.
Rollins had to have the speed. He had to have the smarts. He had to have the guts.
The Nationals were impressed.
"He's a good ballplayer, a heads-up player," Nationals first baseman Nick Johnson said. "He never stops."
"It's just heads-up base running," third baseman Ryan Zimmerman said. "He's a good player."
"It's just a great heads-up play by Jimmy Rollins," manager Manny Acta said.
*
Phil Sheridan tells us how the Phillies chipped, chipped, chipped away at the Nationals' early lead in impressive (and unusual) fashion.
*
In the Phillies Notebook, Tom Gordon survived another shaky appearance.
*
Just arrived in Cincinnati, where something always interesting happens with the Phillies.
2003 - Reds pitcher Jimmy Haynes shut down the Phillies in a 15-1 blowout June 13. Beat writers asked Larry Bowa some tough questions afterward, and the next day Bowa and a reporter get into a heated argument in his office. The Phillies split the series to begin a 12-2 run.
2004 - The Phillies practically were out of the NL wild card race when they arrived in mid September, but entered winning 9 of 10. They lost 2 of 3 to end talk of a miracle postseason run.
2005 - The Phillies took 2 of 3 in a late-September series as the Phillies tried to win the wild card. They won on Sept. 23, 11-10, thanks to a three-run homer from Chase Utley and a two-run homer from David Bell in the top of the ninth inning. They won on Sept. 25, 6-3, highlighted by Utley's inside-the-park home run.
2006 - The Phillies swept the Reds in a May series to win 13 of 14. Cole Hamels made his big-league debut May 12. Jon Lieber threw 8 2/3 shutout innings in a 7-0 victory on May 13. And Ryan Howard, who spent the night in the hospital with food poisoning, hit a pinch-hit, game-tying homer in the 8th and another homer in the 12th to win, 2-1, on May 14.
2007 - Tom Gordon blows a 1-0 lead in the ninth and loses the game in the 10th in a 2-1 loss on April 20. The loss drops the Phillies to 4-11, the worst record in baseball. Charlie Manuel calls a team meeting the next day. Hamels strikes out 15 in a complete game 5-1 victory April 21. The Phillies go 85-62 after Manuel's meeting for the best record in the National League.