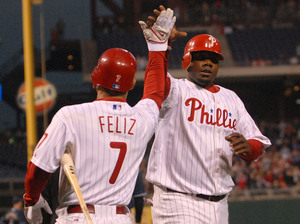 Let's take a look at Ryan Howard's career splits, which include last night's double and home run in a 3-2 victory over the Padres:
March and April: .230 with 13 homers and 37 RBIs.
May: .264 with 21 homers and 55 RBIs.
June: .280 with 19 homers and 48 RBIs.
July: .294 with 23 homers and 67 RBIs.
August: .307 with 26 homers and 81 RBIs.
September and October: .308 with 33 homers and 79 RBIs.
History shows the man starts very slowly and heats up as the season progresses, so there's no reason to think differently about this season until proven otherwise.
"I'm seeing the ball better," Howard said. "But to be able to come through in a situation like that, it only makes it that much better. When you're not seeing the ball, everything is tough. You don't feel good at all, and everything is just wrong. Now I'm starting to kind of see it, and I'm putting some good passes on it. Hopefully, the results will start to change a little bit."
*
In the Phillies Notebook, Brett Myers is long tossing and studying film to find a way to pump up his fastball.
Oh, and he said he's not out of shape.
*
Sports Illustrated ran a poll and ranked Citizens Bank Park the 10th best in baseball.
It ranked ballparks in 10 categories. Here is where the Bank ranked in those categories: affordability (13th), food (4th), team quality (9th), tradition (14th), atmosphere (7th), fan IQ (7th), hospitality (30th), promotions (10th), traffic (10th) and neighborhood (20th). Philadelphia continues to have a terrible reputation for its fans, but at least people love the food.
The magazine ranked ballparks in Cleveland, Milwaukee, Pittsburgh, Detroit and St. Louis in the top five. I question that list. A lot. Cleveland, Milwaukee, Detroit and St. Louis have nice parks, but they're not four of the five ballparks I would send somebody for the ultimate baseball roadtrip. Not even close.
Here's my top five:
Wrigley Field.

PNC Park

AT&T Park

Fenway Park

Camden Yards
Wrigley and Fenway are old. They're cramped. Blah, blah, blah. But they're also freakin' sweet. PNC Park is probably the best park in baseball. Too bad they can't move the ballpark to a city with a better team, you know? There's just something cool about watching a game on the bay in San Francisco, which has great food stands in center field. And Camden Yards is still a great place to go. I think the Bank is right underneath those top five. It's just too bad they didn't put the ballpark in the city.
*
Did you hear Billy Wagner rip a teammate yesterday?