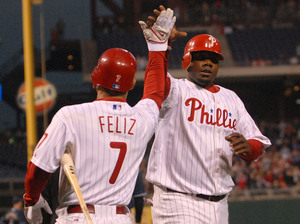 Let's take a look at Ryan Howard's career splits, which include last night's double and home run in a 3-2 victory over the Padres:
March and April: .230 with 13 homers and 37 RBIs.
May: .264 with 21 homers and 55 RBIs.
June: .280 with 19 homers and 48 RBIs.
July: .294 with 23 homers and 67 RBIs.
August: .307 with 26 homers and 81 RBIs.
September and October: .308 with 33 homers and 79 RBIs.
History shows the man starts very slowly and heats up as the season progresses, so there's no reason to think differently about this season until proven otherwise.
"I'm seeing the ball better," Howard said. "But to be able to come through in a situation like that, it only makes it that much better. When you're not seeing the ball, everything is tough. You don't feel good at all, and everything is just wrong. Now I'm starting to kind of see it, and I'm putting some good passes on it. Hopefully, the results will start to change a little bit."

*
In the Phillies Notebook, Brett Myers is long tossing and studying film to find a way to pump up his fastball.