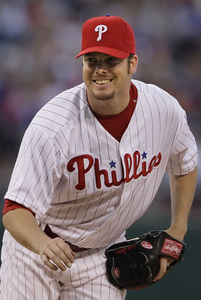 Adam Eaton got his win.
The Phillies got their sweep.
It sets up nicely for this weekend's series against the Florida Marlins at Citizens Bank Park.
Eaton allowed just one run in six innings last night in a 6-1 victory over the Rockies. That's two good starts in a row for Eaton. I'm not sure that's cause for celebration, but it could be reason to be cautiously optimistic. We know the Phillies' offense is for real. They have a remarkable track record. We think the Phillies' bullpen is this good. It's been phenomenal so far this season. We know what the Phillies have in Cole Hamels -- an ace. We haven't been surprised with what Jamie Moyer and Kyle Kendrick have done this season. They should give the Phillies offense a chance to win more often than not.