Happ-y Days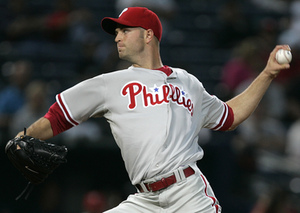 J.A. Happ threw six shutout innings in a 6-1 victory over the Braves. Ten to go, folks.
Happ-y Days
"I definitely wanted to prove I could do it," Happ said. "I thought I could do it all along. It's about getting opportunities and taking advantage of them."
That holds true for the Phillies. They are tied with the Mets in the loss column. They have an opportunity to sweep the Braves tonight. It's Cole Hamels vs. Mike Hampton. Advantage Phillies? It seems to be. But the Phillies, like Happ, have to take advantage.
*
Jim Salisbury tells us about Happ's journey to get to this point.
*
In the Phillies Notebook: Pat Burrell remains in the lineup, despite having the second-lowest average in baseball since early August, and Jamie Moyer said fatigue wasn't a factor in Tuesday's struggles.
*
Pen pals John Gonzalez, Bob Ford and Phil Sheridan discuss Ryan Howard's MVP candidacy.