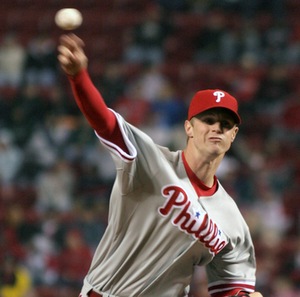 Charlie Manuel has a phrase that he breaks out after certain games, and last night could have been one of those games:
"(Insert pitcher's name here) pitched a (insert pitcher's name here) game tonight."
He could have said that last night about Kyle Kendrick, who allowed three runs in six innings in a 5-4 victory over the Braves. Kendrick definitely pitched a Kendrick game. The Braves hit balls hard off him, he got into some trouble, he worked out of some trouble, he had just one clean inning and at the end of the night he left with a quality start. But that's pretty much what they want from Kendrick.
Keep it close.
Give the offense a chance.
"Sooner or later, we can put a big inning on you," Manuel said. "And I don't think we've seen the best of our offense yet. I think our offense is much better than what it has shown so far. We haven't really hit with togetherness in our lineup, but we're going to."
*
Ryan Howard went 2 for 4 with a double off the base of the wall in center field and a hard single through the defensive shift in right.
Now let's not get ahead of ourselves, but Howard has a very modest five-game hitting streak going. More important, he really has hit some balls hard in that stretch. He ripped a single off the wall at AT&T Park on Friday, he homered to left on Saturday, he tripled on Sunday and he hit two balls hard last night.
*
The streak is over. Brad Lidge allowed his first earned run of the season last night, although it never should have been. Jayson Werth misplayed a fly ball to center field with a runner on second and two outs in the ninth to allow a run to score.
"I read in right off the bat," Werth said. "I was already taking steps in when I realized it clearly wasn't in. Definite miscue in a bad situation there."
But Lidge, Tom Gordon and J.C. Romero have been more than just impressive. Throw out Gordon's performance on opening day and the Big Three have a combined 1.05 ERA (six earned runs in 51 1/3 innings) this season.
*
In the Phillies Notebook, Manuel moves Werth to center and Shane Victorino to right for a night, the Phillies' trouble hitting lefthanders and more.