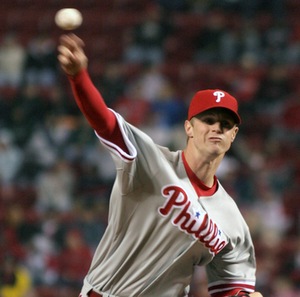 Charlie Manuel has a phrase that he breaks out after certain games, and last night could have been one of those games:
"(Insert pitcher's name here) pitched a (insert pitcher's name here) game tonight."
He could have said that last night about Kyle Kendrick, who allowed three runs in six innings in a 5-4 victory over the Braves. Kendrick definitely pitched a Kendrick game. The Braves hit balls hard off him, he got into some trouble, he worked out of some trouble, he had just one clean inning and at the end of the night he left with a quality start. But that's pretty much what they want from Kendrick.
Keep it close.