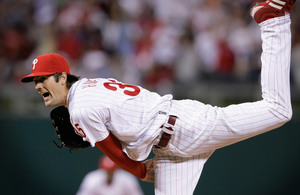 Cole Hamels said Wednesday that he couldn't care less about who he's pitching against tonight at Citizens Bank Park.
Hey, that's OK.
But everybody else does.
It doesn't get much better than Hamels vs. Johan Santana. When the Mets acquired Santana from the Minnesota Twins this winter, everybody envisioned games between two of the best lefthanders in baseball with two of the best changeups in baseball. Hamels vs. Santana should boost what already is growing into one of the better rivalries in baseball. Tonight's game is sold out. Tomorrow afternoon's game is sold out, and just a few tickets remain for Sunday's series finale against the Mets. So it should be a good atmosphere. And well-pitched games from Hamels and Santana should only add to the excitement tonight.