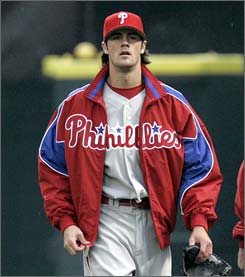 If you were wondering if Cole Hamels threw chairs and flipped tables when Charlie Manuel told him that Brett Myers would be the team's Opening Day starter, he did not.
Damn.
"My understanding going into spring training was to just go out and play," Hamels said this morning. "I wasn't sure if I was going to be the No. 1 guy, just because I knew Brett was coming back and I liked the fact that he was coming back. I like the fact that he and I were able to work off each other. So if he was the No. 1 or I was the No. 1, it wasn't a big deal to me. I actually don't mind him being first. I actually kind of like it.
"If he goes out there on Opening Day, it's no big deal to me.
"Being 24 years old, I have plenty of years of trying to chase after Jamie Moyer. I know eventually maybe I'll get one of those. But for myself, after about three, four starts, it doesn't matter anymore. Because it's every five days. It even happens where there's an injury here or three or you have an off day and you skip one of the guy's in the rotation. It just gets screwed up, so after a while everybody forgets about that."
*
Balls, Sticks, & Stuff discusses Myers over Hamels.
So does Beerleaguer.
*
A Citizen's Blog stirred a battle with Mets fans this week. How dare he!