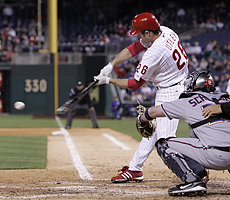 Are the Florida Marlins for real?
It's May 30 and they're in first place in the National League East, a half-game ahead of the Phillies. They're fourth in the league with 4.88 runs scored per game, which trails only the Cubs (5.63), Phillies (5.33) and Diamondbacks (5.07). They have a couple studs in Hanley Ramirez and Dan Uggla. They can hit. They definitely can hit. But it should be interesting to see how their pitching holds up. The Marlins enter tonight with a 4.65 ERA, which ranks eighth in the league. That's behind the Phillies, who rank sixth with a 4.31 ERA. But Marlins starters also have a 5.00 ERA, which is 14th in the league. We saw last season how tough it can be to win without effective starting pitching (i.e. Adam Eaton, Freddy Garcia, Jon Lieber, etc.). The Phillies found some effective replacements for those guys (Kyle Lohse, Kyle Kendrick, etc.). Can the Marlins find some if needed? Will they spend for it?
Jim Salisbury went to New York earlier this week to talk with the Marlins, and they definitely think they're for real.
"Everyone except the guys in this clubhouse thought losing (Miguel) Cabrera and (Dontrelle) Willis was the end of the world," Marlins first base coach Andy Fox said. "But these guys are real grinders. They took it as a challenge. Now, there's a sense in here that we can do this."

We'll find out this weekend.