Game 130: There is Cloyd, but no Brown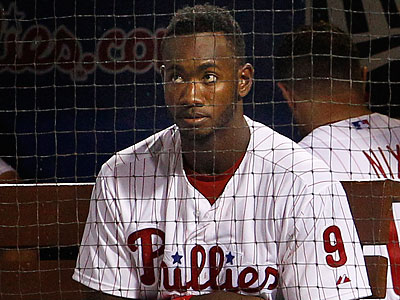 News blogs, sports blogs, entertainment blogs, and more from Philly.com, The Philadelphia Inquirer and the Philadelphia Daily News.
Game 130: There is Cloyd, but no Brown
Matt Gelb, Inquirer Staff Writer
Tyler Cloyd will make his major-league debut Wednesday but he will do so without Domonic Brown behind him.
Brown is out of the Phillies lineup after aggravating a left knee injury Tuesday. Brown insisted after the game he was not injured and only removed because trainers saw him hobbling. Manager Charlie Manuel said Brown indicated he wasn't feeling right.
Whatever the case, Brown is not starting for the third time in four games.
The lineup against Mets rookie Matt Harvey:
1. Jimmy Rollins 6
2. Juan Pierre 7
3. Chase Utley 4
4. Ryan Howard 3
5. John Mayberry Jr. 8
6. Laynce Nix 9
7. Kevin Frandsen 5
8. Erik Kratz 2
9. Tyler Cloyd 1
---
Have a question? Send it to Matt Gelb's Mailbag.