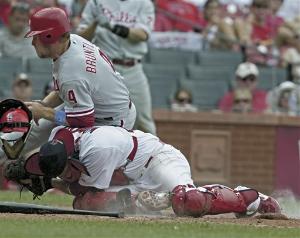 It should have been better.
The Phillies opened their three-city, nine-game, 10-day road trip through Atlanta, Florida and St. Louis two weekends ago by sweeping the Braves at Turner Field. But then they lost two of three last week to the Marlins at Dolphin Stadium and two of three this weekend to the Cardinals at Busch Stadium to finish the trip 5-4. They should have been 6-3, but they lost yesterday in bizzare fashion to the Cardinals, 7-6, in 10 innings.
Knowing fan reaction to Tom Gordon when he throws a first-pitch ball at Citizens Bank Park, I'm pretty sure most people are blaming him today. He totally whiffed at the ball Chase Utley threw to him with two outs in the bottom of the 10th inning, which allowed the winning run to score.
But like Charlie Manuel likes to say, "Watch the game."