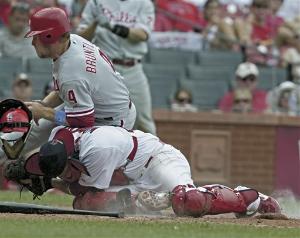 It should have been better.
The Phillies opened their three-city, nine-game, 10-day road trip through Atlanta, Florida and St. Louis two weekends ago by sweeping the Braves at Turner Field. But then they lost two of three last week to the Marlins at Dolphin Stadium and two of three this weekend to the Cardinals at Busch Stadium to finish the trip 5-4. They should have been 6-3, but they lost yesterday in bizzare fashion to the Cardinals, 7-6, in 10 innings.
Knowing fan reaction to Tom Gordon when he throws a first-pitch ball at Citizens Bank Park, I'm pretty sure most people are blaming him today. He totally whiffed at the ball Chase Utley threw to him with two outs in the bottom of the 10th inning, which allowed the winning run to score.
But like Charlie Manuel likes to say, "Watch the game."
Consider:
Brett Myers got hit hard again.

The offense went 4 for 16 with runners in scoring position and left 15 runners on base. It left the bases loaded four times. It had the go-ahead run on third with one out in the ninth, but couldn't score.

Then the poor fielding in the ninth. Before Gordon whiffed, Utley made a bad throw that allowed the winning run on base with two outs.
Blame could be spread pretty evenly throughout. Hitting, pitching and fielding.
"We didn't do some things good," Manuel said. "The game was sitting right there. It could have been our game."
It wasn't.
*
If the Phillies had taken better advantage of their opportunities and won yesterday, and maybe stolen another game in Florida, they really could have distanced themselves from the Marlins, Mets and Braves in the National League East. The Marlins went 5-5 since the Phillies opened their road trip. The Mets went 3-6 and the Braves went 2-7. So instead of picking up a half-game on the Marlins, two against the Mets and three against the Braves, they really could have distanced themselves.
*
In the Phillies Notebook, Eric Bruntlett feels terrible about the collision at home plate that sent Yadier Molina to the hospital. Myers also talks about his problems on the mound.
*
The Red Sox open a three-game series tonight aganst the Phillies, which means Red Sox fans will be at the ballpark tonight! Yeah! Actually, Bob Ford isn't real excited about this. In fact, he kind of can't stand Red Sox Nation.
*
Manny being Manny. Manuel recalls managing Manny Ramirez as a top prospect with the Cleveland Indians.
*
Pitching match ups for this week's series against the Red Sox.