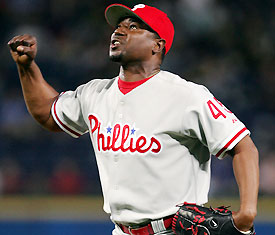 Tom Gordon had hoped after the way he finished 2007 that he would have a chance to compete for the Phillies' closer's job in 2008.

But then the Phillies traded for Brad Lidge in November.
That ended that.
"Nobody likes to lose a job," Gordon said. "I felt healthy enough like I was ready to compete (for the closer's job). Knowing that Lidge is here, he's the closer. I'm the eighth-inning guy. I can handle that. I've done that before. I've handled that role. I've had success in that role. Right now for me it's about winning a World Series."
The Phillies find themselves in an interesting spot. Lidge, who was their big offseason acquisition, just had arthroscopic knee surgery. He will miss three to six weeks, which means he might start the season on the DL. That means Gordon is the closer until Lidge returns. But Gordon has been pitching with a slight tear in the labrum in his right shoulder since 2005. In each of his first two seasons with the Phillies he has spent time on the DL because of shoulder problems.
How long can Flash hold up? So far everybody who has seen Gordon pitch in camp has been impressed. Gordon said he hasn't felt this fine since 2005.
But can he really stay healthy the entire season?
He's in the final year of a three-year, $18 million contract. Here's something to consider: if he can stay healthy, the Phillies just might pick up Gordon's $4.5 million club option for 2009.
*
The Phillies consider Lidge's surgery a success.
Time will tell.
Most fans are thrilled that Ryan Howard beat the Phillies last week in salary arbitration. Howard will make $10 million this season instead of the $7 million the Phillies offered. But what does that mean short term for the Phillies? Have they lost the flexibility they expected come the July 31 non-waiver trade deadline?
Because you know in some way, shape or form, they have $3 million less to spend somewhere.
"We have contingency plans," Phillies assistant general manager Ruben Amaro Jr. said. "Those are decisions that will be made at that time. But since I've been here, we've never been denied making the right decision for the club. So, again, those decisions are time and circumstance. A lot of it depends on where we are and how it affects us in the future and those kinds of things."
But you still have to wonder, will they be able to take on players like Kyle Lohse and Tadahito Iguchi this year like they did last year?
Still looking for Mike Schmidt questions for a few more hours.