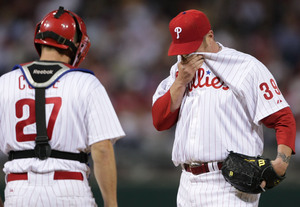 Does anybody have any answers?
Brett Myers isn't sure what's wrong. He likes his stuff. He likes the pitches he's throwing. He thinks his location is OK. He said he's healthy. He said his conditioning is fine. He said he has confidence on the mound. But he's getting hit, and hit hard. That's a big problem as the Phillies begin the second quarter of their 162-game season.
Myers lasted just 4 1/3 innings last night in an 8-6 loss to the Braves.
"It's frustrating," Myers said. "I'm disappointed in myself. I'm disappointed in letting my teammates down. I'm disappointed the fans have to watch that. You work so hard to try to win. You push yourself. You're busting your rear end out there and you have nothing to show for it. It's frustrating. I'm going to work my way through this. This isn't going to happen all season because I'm not going to let it happen."
In his previous start in Arizona, Myers said he wasn't sure what went wrong. Chris Coste thought Myers had good stuff that afternoon at Chase Field, and hoped he wouldn't try to reinvent the wheel against Atlanta. Myers didn't try to reinvent the wheel, but he certainly didn't improve. That's a big problem moving forward. The Phillies pretty much know what they have in Kyle Kendrick, Jamie Moyer and Adam Eaton. They know Cole Hamels is their ace. But they need Myers to reassert himself as part of the 1-2 punch atop their rotation. They can survive inconsistencies from Kendrick (3-2, 4.87 ERA), Moyer (2-3, 5.02 ERA) and Eaton (0-1, 5.40 ERA) if their offense gets on track and their bullpen continues to pitch well. But they can't add a fourth pitcher to that mix.
"I don't know exactly what we can do," Charlie Manuel said. "We can keep working with him and sending him out there and see where it goes."
*
Guess who loves Chase Utley?
President Bush.
Bush said in an interview at politico.com that he would take Utley first if he had to choose a position player to start a team. Utley shares his reaction in the Phillies Notebook.
*
There still are no answers in John Marzano's death.