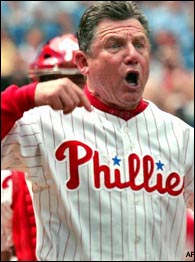 David Brown at Yahoo's Big League Stew just did a great Q&A with former Phillies shortstop and manager Larry Bowa.
Here's a sample:
Q: Who was the better "Bull" — Greg Luzinski or Leon Durham?
LB: Wow! And the only reason I'm saying Luzinski is because I played with him a lot longer and we were best friends coming up through the minor leagues. Leon Durham was a very good player but Luzinski — the one thing people don't realize with him — he hit after [Mike] Schmidt, and for a guy to drive in as many runs as he did, as great as Schmidt was ... he picked up a lot of two-out RBIs.