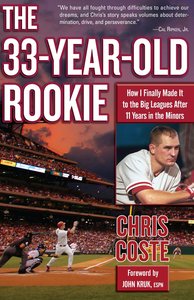 Got a question for Phillies catcher Chris Coste?
Sure you do.
Coste toiled in the minor leagues for 11-plus seasons before he finally made his big-league debut in 2006 at age 33. It's a remarkable story. So remarkable that he wrote a book about it. The 33-Year-Old Rookie will be available in stores March 18. And we're not just talking about stores in the Philadelphia area. We're talking about stores in San Diego and San Antonio, Topeka and Terre Haute. It's going to be everywhere.
So if you have a question for Coste, e-mail me here.
Please, include your first name, initial of your last name and city and state where you live.
I'll pick the 10 best questions and ask Coste later this week. You can read his answers in Saturday's Inquirer.
So far we've done Q&A's with Chase Utley, Mike Schmidt and Rich Dubee.
*
Listen to Mike Schmidt's Q&A.
Your browser does not support the audio element.