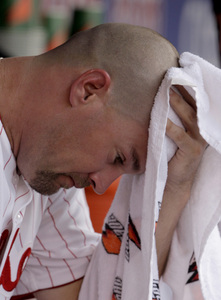 Clay Condrey can relate to Chris Coste's story better than almost anybody.
Consider his 2007 season:
Made the opening day roster.

Designated for assingment April 14 to make room on the 40-man roster for J.D. Durbin, and outrighted to triple-A Ottawa on April 18.

Rejoined Phillies on May 5.

Outrighted to Ottawa on June 12 to make room for Kyle Kendrick.

Rejoined Phillies on June 24.

Designated for assingment June 29 to make room for J.C. Romero, and outrighted to Ottawa on July 2.

Rejoined Phillies on July 15.

Outrighted to Ottawa on July 31 to make room for Kyle Lohse.

Rejoined Phillies on Aug. 3.
Condrey, who needed to clear waivers four times last year just to remain with the Phillies, is competing with Francisco Rosario, Travis Blackley and Durbin for one of the team's final two bullpen jobs.
I'm making him a slight favorite over the other three for one of the jobs.
But we know Condrey isn't taking anything for granted.
How could he?
*
Jamie Moyer looks ready to start the season.
*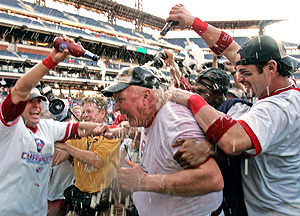 I haven't seen this promoted anywhere online, so I figure I should promote it here ...
The Inquirer is running a 10-day countdown to opening day beginning tomorrow. It starts with Phillies manager Charlie Manuel, the man who fills out the lineup card.
Then we begin the countdown based on the number associated with each position:
Saturday - 9 days to opening day - Right Field - Geoff Jenkins and Jayson Werth.
Sunday - 8 - Center Field - Shane Victorino.
Monday - 7 - Left Field - Pat Burrell.
Tuesday - 6 - Shortstop - Jimmy Rollins.
Wednesday - 5 - Third Base - Pedro Feliz.
March 27 - 4 - Second Base - Chase Utley.
March 28 - 3 - First Base - Ryan Howard.
March 29 - 2 - Catcher - Carlos Ruiz.
March 30 - 1 - Pitcher - Cole Hamels.
March 31 - Opening Day - The Fans.
Each package includes: a story on that day's player by Jim Salisbury, Frank Fitzpatrick or myself; a column from Bill Lyon; the top players at that position in baseball history; memorable moments in Phillies history at that position; and much more. There will be bonus features online as well.
Check it out beginning tomorrow.